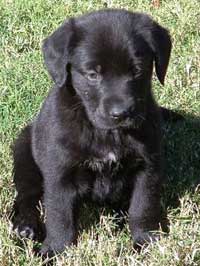 We are happy to say that all three of these little girls have been adopted!
Gracie is one of three siblings that GAPR took in after their mother was killed. The puppies were two weeks old and one of our volunteers took them in and bottle-fed them. The mother was a Golden Retriever and their father was a Lab. They are now seven weeks old and have had first set of shots.
They all have good temperaments with Gracie being the most loving. Mollie and Annie are more playful. We will have them spayed as soon as they are old enough. The adoption fee includes all their shots, rabies and spay at our veterianian. These girls are going to be big dogs and will make wonderful companions and are already well on their way to be crate-trained. If you are looking for a young, smart, fun and loving puppy then you have found her!