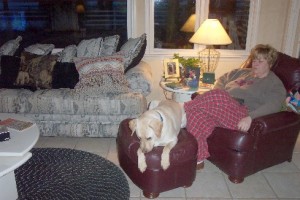 Note from Chester's mom:
I saw you guys had a tent at the Gimme Shelter.  I hope you guys were successful.  We had 5 dogs adopted from the Border Collie Rescue,we completed the house visits this weekend, and everything went great.
I wanted to send you this picture of "Chester".  He was the yellow lab that I adopted from you guys.  He is doing great and as you can see is spoiled rotten.  We love him very much.  He is a great companion.
Hope you had a good weekend.
Sincerely,
Tammy