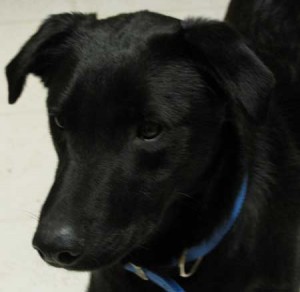 Moe is a handsome lab mix brought up from the Tunica Shelter to  VisualThunder to be kept out of the freezing temperatures.  A family took him for the weekend and absolutely love him.  Moe is less than a year and has a ton of puppy exuberance and is still doing things that puppies do like mouthing your hand with his teeth and nipping at your heels when you walk. He loves to wrap himself around our legs when we take him outside. I believe he's probably 40 pounds and while he looks like a lab mix, I don't think he'll be as big as a full lab tends to get. I would guesstimate he won't get much beyond 50-55  pounds.
He loves to wrestle with us. We'll take him in our lap and tickle him, roll him over to give him tummy rubs, etc. He is a bit of a thief and still  needs to learn the difference between his dog toys and things like shoes, socks, etc. but he is just the sweetest dog.  He does very well in a crate and is virtually house-broken already. We have a border collie and a border collie foster (both females) and he does very well with them. He and our border collie foster have been given each other kisses and licking each other. Also, as opposed to many dogs who come out of uncertain situations and wind up in shelters, he doesn't have much fear. He is very inquisitive and loves to wander around our house and learn new things.
We have fostered many dogs and he is one of our favorite and we hate to see him go back into a shelter environment.