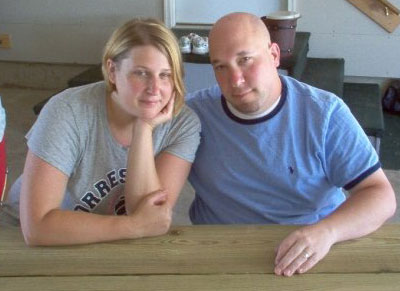 To say that Jen is the volunteer of the month would be an understatement.  Jen has been the volunteer of the year.  There has never been a more dependable, compassionate Guardian Angel than Jen.  Jen and her husband Mike came to us as adoptive parents about two years ago.  After adopting Diesel, they became interested in fostering.  After working through some initial problems with their first foster, they made little Dalton a Swearingen also.
I think at that point Jen and Mike thought perhaps fostering wasn't for them.  But they still wanted to be involved with helping in other ways.  After Christmas in 2004 we had a foster home quit on us.  In addition to a couple of personal fosters, they had an adult female Red Heeler, Ginger, and two Red Heeler puppies, Frisky and Pippy, that belonged to GAPR.  All five of these dogs had serious issues that had escalated in the foster home.  Even though she had not planned on fostering anymore, Jen jumped right in there and took all three Red Heelers.
Trust me, this was a huge undertaking.  But not once did we hear Jen complain.  She just started bringing them to each adoption event.  She even began taking Ginger to obedience classes, which were later completed by the adoptive family.  Finally, Pippy found his forever home.  Jen still has Frisky and still we have never heard a single complaint out of her.
There are some personal things going on in her life now and she and Mike are not going to continue to foster, but she still holds on to Frisky hoping for a new foster home or even better – a wonderful forever home.  Jen and Mike are going to continue to be a very vital part of Guardian Angel Pet Rescue.  They are very actively involved in our upcoming 5K Race.  Jen is always there when we need a helping hand.  Thank you Jen – you truly are an angel.