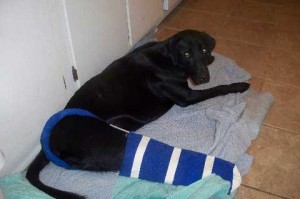 This beautiful girl was found on the side of the interstate by on of our volunteers. He saw her and thought she might have been hit by a car, so he went back and sure enough when she tried to get up she was dragging her hind legs behind her. At the vets he was told that it was not her back but her legs that were injured. An x ray showed a broken femur and 2 cracks in her pelvis. The vet put her leg into a splint and she stayed there for the weekend until her angel came back for her on his way back to Memphis. The vet then informed him that she also has a broken foot.Dolly's first vet stay cost over $200.00 and she is now at clinic here to have her leg fixed permanently with a pin. The surgery has been performed but Dolly had to stay because of the swelling that is not going down and her trouble walking because of her cracked pelvis. The cost for this vet stay will be determined  by the length of her stay.
Update 11-02-2010
She has come home from the vet and is recovering at her foster home. She has to be carried outside by her foster father. She will be on strict confinement for the next couple of weeks. Her vet bill for this visit came to over $300.00. She has to go back for another surgery to have the pin removed in a few weeks.
Please help get Dolly all the care she needs to recover and go on to find her forever home.
Update 01-30-11
Thank you so much for all your support!  Dolly had the pin removed from her hip and has fully recovered.  The couple that was fostering her during her rehab fell in love with her and adopted her.  She has found her forever home and is being spoiled rotten!