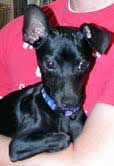 Frankie is a young male Miniature Pinscher Dachshund mix that weighs about 11 pounds and was rescued from the Memphis Animal Shelter.  In that environment he appeared very aggressive and the shelter staff fought to keep him from being euthanized.  When we showed up and they convinced usto give him a chance (took very little effort to convince actually).
Frankie was terrified of men when we first got him but had a very patient foster dad that Frankie now adores!  Frankie is a very sweet little guy once he is secure in his environment.  He does have short man syndrome so ideal situation would be without a bigger dog, although he has learned to live with his bigger foster siblings in peace.
Frankie is very playful, minds well, is crate-trained and house-trained, heartworm negative, up-to-date on vaccinations and neutered.  He does not do well in the adoption day environment because people rushing him makes him nervous so he would be best suited for a quiet home without younger children.  If you are ready to adopt a young dog with a lot of love to give and have the patience to let him get settled then you have found him!