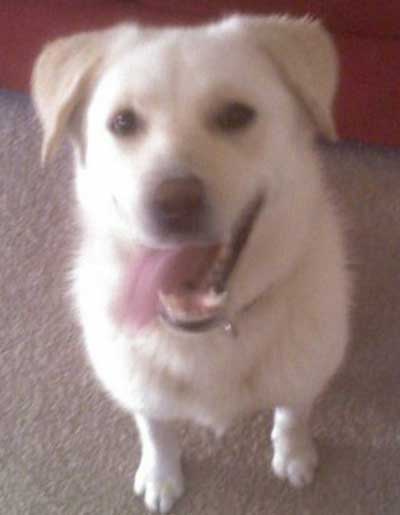 This sweet girl showed up at somebody's front door last Friday.  She had a collar, and has been very well taken care of.  She doesn't have fleas or bug bites and is obviously someone's pet.  I put an ad on craigslist, made flyers and distributed them around my neighborhood and to local vets, but have come up empty.
She looks to be about 8 – 9 months old. Solid white long hair
She has lots of energy and loves to go on walks and play….especially with other dogs. I have 2 labs a male and a female, both she gets along great with.  She already knows simple commands like come and sit. She is very lovable and loves to cuddle. She also loves to run. when I let her out she loves to chase after birds, chipmunks, anything that moves!  She is crate trained and house broken and has great manners especially for a young dog.